It is not uncommon in a relationship for one person to take issue with how the other person spends the money. Stereotypes tell me that women are the spending culprits.
Experience tells me stereotypes don't match up with my marriage very well.
I've found that passing the marital audit is much easier when the expenses are more or less related to morphing into a sexy beast.
Anyway, here are my indispensable gear choices:
I am a moderate pronator, so I need stability. However, I'm still a big guy, so I need cushioning. I currently use the Saucony Progrid Omni 8: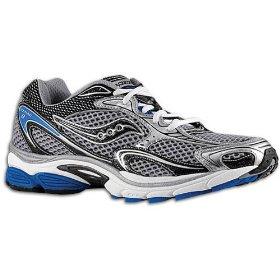 and the Asics Gel 3010:
Between the two of them, I have to give the edge to the Saucony. It's definitely more breathable.
My wife gave me what may have been the most thoughtful (and practical) gift of our entire marriage for father's day. I never leave home without it on runs more than 5 miles or so:
I also never leave home without this:
And especially not this:
For clothes, I've found that the Nike Dri-Fit line wicks moisture very well and helps me avoid the horrors of nipple chafing. I usually go with fitted sleeveless tees and running shorts (5" or 7").